Free Unbiased Flooring Guide For Homeowners
Carpet | Vinyl Plank | Hardwood | Ceramic | Best Dealers
---
(Information Provided by Consumer Advocate - No Flooring Sales)
How to Install Floor Tiles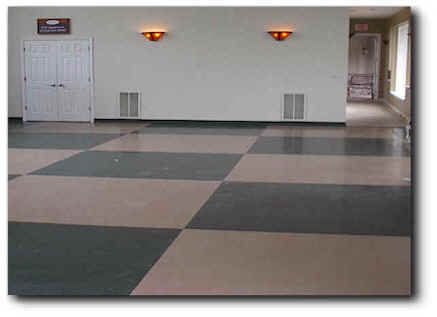 There are many different types of floor tiles for many different purposes including Ceramic, Marmoleum, Rubber, Vinyl and Carpet Tiles to name just a few.
No matter what type of flooring tiles you choose you must follow the manufacturer's installation instructions and procedures to the letter to make sure your new floor will look great and last as long as possible.
Each type of floor tile will have its own set of manufacturer's instructions to follow to ensure proper installation. These may include such aspects as:
Accepted use or application

Testing for moisture

Adhesives or mortar and grout specifications

Trowel notch requirements

Set up and drying times

Use of Sealers

Expansion space requirements

Proper floor preparation

Material acclimation guidelines

Maintenance and care instructions
It is critical that you follow the manufacturer's installation guidelines to the letter or you risk ruining your floor and voiding the warranty.
Order Plenty of Extra Tiles
If you have already ordered your new tiles I hope you ordered some extra tiles too. This is very important because there is always a assumed amount of breakage with ceramic tiles, there are always some miss-cuts when installing any type of floor tile, and there will always be a need to replace some worn, stained or damaged tiles in the future.
Don't expect to be able to order more tiles of the exact same type next week or next year, they may not be available and even if they are, there is no guarantee they will match the tiles you already have. How many tiles to order extra? I would add a minimum of 10-15% to your initial order.
Ceramic tile considerations:
While linoleum, V.C.T. and carpet tiles are designed to be butted closely together, most ceramic tiles are designed to have a gap between each tile to leave room for a color-matching grout.
Smaller tiles (4" x 4") usually have a smaller grout line of 1/16".

Medium sized tiles (6" x 6" or 8" x 8") might look best with a gap of 1/8" to ¼",

Larger tiles (12" x 12") would typically have a grout line of ¼ to ½"".

You can choose the size of the grout line to suit your fancy but you need to be sure include the desired grout line measurement into your room layout calculations. Ceramic tiles range from 3/8" to 5/8" thick.
Getting ready to install tile flooring
Floor preparation
Floor Stability
Ceramic tiles will surely crack if the subfloor is unstable. The larger the tiles, the more stable the subfloor needs to be. Obviously a concrete slab will be the most stable of all, but wood floors that are not properly supported from below can be a major problem.
Some homes do not have enough floor support to install ceramic tiles. If the subfloor is not supported properly, ceramic tiles will crack and the grout will crumble. The size and spacing of the floor joists is the key to floor stability.
The floor joists need to be properly spaced and sturdy enough to prevent the floor from moving up and down. The typical floor joist is 2" x 10" and spaced 16" apart on center. This is usually sturdy enough for most ceramic tile applications as long as there is a solid and sturdy underlay installed.
If your floor joists are spaced farther apart than 16 inches or if your joists are less than 10" tall then you may want to consider your options. You can either shore up the existing floor joists by installing taller joists or adding another beam or change the type of flooring you install to something more flexible.
Underlayment options
Even if your joists are sturdy enough to keep your floor from bouncing up and down, you still need to have a sturdy underlay installed. The underlay needs to be thick enough to prevent the floor from bowing between the floor joists. Depending on what you already have installed over your joists, a good choice might be ¾" plywood.
You will want to buy a grade of plywood that has one side that is smooth and free of knotholes. (This is called A grade) Another good choice would be to install specialty plywood like Sturd-I-Floor® by Georgia Pacific, or use Wonderboard® or HardieBacker®.
Where to lay the first tile
How to install your floor tiles straight
Rarely do I find a home with perfectly square rooms. For this reason we have to measure to find out if the room is square and if not, what wall will be want to use to lay the tile as straight as possible. There are two schools of thought to consider.
Some might want to start at the absolute the center of the room and let the tiles be a little bit of square with all walls, while others will want to have the tile set straight with a particular wall and the be a bit crooked with the rest of the room. Each room and application is unique and you need to make your own mind up about setting the tile straight.
Do a dry layout of your tile floor. Read the instructions, do they recommend mixing up the boxes to avoid noticeable color variances? Too many DIYer's are in a big hurry to get the job done. Preparation is the key to a successful installation. Lay out your tiles without glue to see what they will look like after they are installed.
A dry layout? Yes! Sure it's a bit time consuming but I guarantee you will be glad you did. This will help you get a feel for how the tiles will look and if you need to mix up the tiles or rearrange them to get a more even color or texture appearance then this is the only way you will be able to do that effectively.
Once you have the tiles laid out the way you want, use masking tape to number the tiles so you know the order that you want them installed permanently. You may also find that you want to add something extra like a border or a pattern to give your new floor a unique look.
Once you decide which way you want to lay the tiles down, it's time to measure for a starting point. Lots of questions need to be answered before we can move forward.
Use a tape measure to mark the floor near the center of the room at both ends. Snap a chalk line making a mark all the way down center of the room.
Note: It's important to know the size of your tiles and the width of your grout line if you are doing ceramic tiles. (Using grout spacers is a smart idea)
Learn more: