Free Unbiased Flooring Guide For Homeowners
Carpet | Vinyl Plank | Hardwood | Ceramic | Best Dealers
---
(Information Provided by Consumer Advocate - No Flooring Sales)
Carpet Tiles Explained
Carpet tiles are a versatile, functional and stylish solution for indoor flooring. They can be used in both residential and commercial settings, and offer a range of benefits over traditional broadloom carpeting. Easy to install, clean and maintain, carpet tiles come in a variety of sizes, patterns and colors, allowing you to create your own unique design.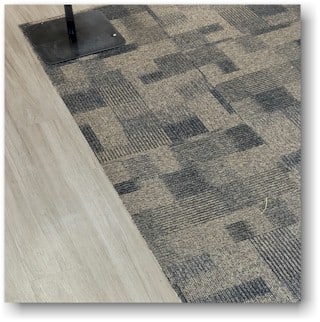 Features:
Easy Installation: Carpet tiles are easy to install and remove, making them perfect for DIY projects or temporary flooring solutions.
Durable: Made with high-quality materials, carpet tiles are designed to withstand heavy foot traffic, spills, and stains.
Versatile: Carpet tiles can be mixed and matched to create unique designs or patterns.
Cost-effective: Purchasing only the amount of carpet needed saves money upfront, as well as in installation costs down the line.
Benefits:
Design Flexibility: With so many options available in color and pattern combinations, carpet tiles provide flexibility in designing a unique space.
Easy Maintenance: Individual tile replacement makes maintenance quick and easy.
Eco-friendly: Some companies produce carpet tiles using recycled materials which reduces waste while maintaining quality product standards.
Carpet tiles are perfect for those who need to replace worn or stained carpet areas frequently.
Carpet tiles are perfect for homes with frequent spills and stains.

Anyone with pets that have frequent accidents or folks with high traffic walkways.

Carpet tiles have become very popular in nursing homes, retirement facilities and hospitals.

It's super easy to install and replace carpet tiles. Most are peel-and-stick while others need to be glued down.

The key to success is to make sure the floor is level and clean before you begin.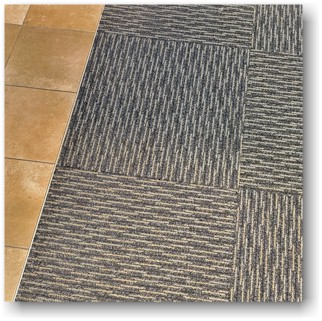 Endless Possibilities
Carpet tiles are available in many colors and styles making your design possibilities endless. There are many different patterns to choose from and installation is quick and easy to do. When installing, the most common method is to turn each tile 90 degrees to create a distinct alternating pattern. You can create any design or pattern that you want, so be creative!
Easily Replaced
Installed carpet tiles can be easily removed and replaced as necessary. Damaged, worn or stained carpet tiles can be easily replaced with a new tile as needed. When ordering, make sure you buy plenty of extra tiles for future use as needed. You may not be able to buy replacement tiles at a later date if they have been discontinued.
Typical Carpet Tile Sizes:
12" x 12"

18" x 18"

24" x 24"
How do they stick to the floor?
Pressure Sensitive glue, spot gluing where necessary, or by using double-sided carpet tape. No special tools required. A tape measure, chalk line, straight edge, utility knife, and double-faced carpet tape is all that's needed.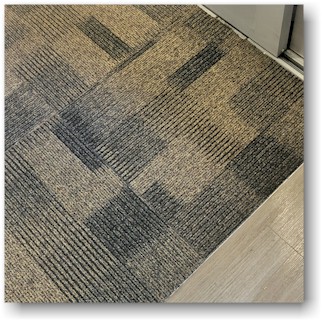 DIY Installation
Carpet tiles look best when installed over a smooth and level surface. Make sure your subfloor is clean, dry and free of debris prior to installation.
Where To Buy?
My list of reputable flooring dealers may have a preferred dealer near you. With so many options available is best to visit the store to see every possibility including the timeline for delivery and installation. If you plan on installing carpet tiles yourself, the store will have helpful suggestions that apply to your unique application.
Learn More: