Free Unbiased Flooring Guide For Homeowners
Carpet | Vinyl Plank | Hardwood | Ceramic | Best Dealers
---
(Information Provided by Consumer Advocate - No Flooring Sales)
What Is Vinyl Composition Tile? (VCT)
Vinyl Composition Tile (VCT) is a popular and versatile flooring choice for both residential and commercial spaces due to its durability, reasonable price point, and wide variety of colors, patterns, and textures. Whether you're searching for an easy-to-clean option for your home or something more aesthetically pleasing for a business setting, VCT could be the perfect choice.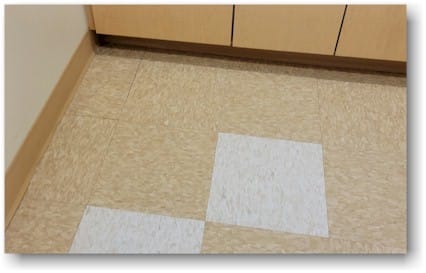 In this doctor's waiting room they created a random pattern by using two different colors of VCT.
Overview of Vinyl Composition Tile

Vinyl Composition Floor Tile is composed of several layers of vinyl material, making it both flexible and strong. The top layer is made up of colored vinyl in a variety of patterns, styles and shades. The middle layer consists of limestone and fiberglass mesh which helps make the tile more durable. The bottom layer is designed to increase the adhesive bond over a variety of surfaces. Vinyl Composition Floor Tiles are available in different sizes but the most common is a 12" x 12" square.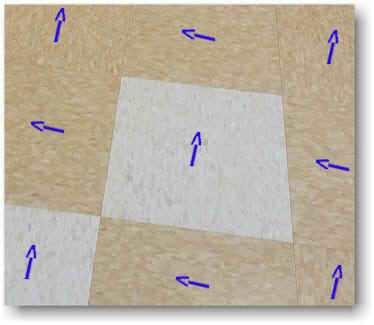 The common installation procedure is to alternate the direction of each tile as shown by the arrows.
Benefits of Vinyl Composition Floor Tile

Vinyl Composition Tile is an excellent choice for a variety of purposes due to its durability, ease of installation and unlimited design options. It is a great option for residential and commercial spaces alike because it is easy to clean and maintain and comes in a wide variety of colors and styles. As an added bonus, VCT also provides sound absorption, making it a smart choice for areas that require noise reduction.


Installation Process for Vinyl Composition Tile

Vinyl Composition Tiles are relatively easy to install. Spreading an adhesive is the most common method over most surfaces such as concrete or wood, and even over the top of existing floor tiles if properly prepared. You may also opt for tiles with a self-adhesive back (peel and stick). You can use a waterproof adhesive if installing tile outdoors or in an area where moisture or other elements might compromise adhesion.

Preparing the Subfloor for VCT Flooring

Before you install Vinyl Composition Tile (VCT), you first need to prepare the subfloor. This may include using a solvent to remove old wax from an existing floor and a thorough cleaning to remove any dirt and debris. Preparation may even require patching, leveling, or sanding as necessary to make the floor surface smooth. After preparing the subfloor properly, it should be clean and dry before applying the adhesive. Always read and follow the manufacturer's installation procedures and safety instructions.


Limitless Styles, Patterns and Colors

There is a wide selection of VCT types and finishes available on the market today. Depending on your needs, you can choose between low-cost basic vinyl tiles, or prestige finishes that come in various colors and patterns. Here are a few color options that are available.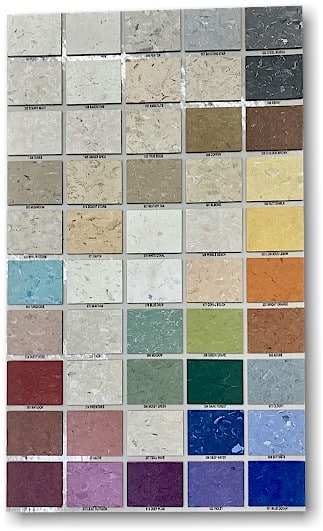 You may also opt for tile with a self-adhesive back (peel and stick), or you can use separate adhesive if installing the tile in an area where moisture or other elements might compromise adhesion.
And for those on a tight budget, there may be cost-saving opportunities such as close-outs or discontinued materials from a reputable flooring retailer near you.
Learn More: